«Assai annose pitture co' risalti di stucchi indorati». L'Annunciazione dell'arco traverso del Duomo di Monza: un contributo agli Zavattari
digital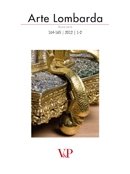 rivista
ARTE LOMBARDA
fascicolo
ARTE LOMBARDA - 2012 - 1-2
titolo
«Assai annose pitture co' risalti di stucchi indorati». L'Annunciazione dell'arco traverso del Duomo di Monza: un contributo agli Zavattari
autore
Roberta Delmoro
editore
Vita e Pensiero
formato
Articolo |

Pdf

online da
01-2012
issn
0004-3443 (stampa)
Ebook in formato Pdf leggibile su questi device:
«Assai annose pitture co' risalti di stucchi indorati».
The Annunciation on the transverse arch in the Duomo of Monza: a contribution on the Zavattaris

ROBERTA DELMORO
Recent studies on the fragment of 15th-Century decoration on the transverse arch of the nave in the Duomo of Monza – in a spot hidden under the attic since the construction of the 17th-Century barrel vault – have added new material on the workshop of the Zavattaris. The Annunciation, formerly extended over the entire arch and now limited to the scene with the Heavenly Father with Angels, points to the hand of a Zavattari working in the 1420s, who I suggest might be identified in Franceschino, whose presence in Monza is documented in 1420-21. The analysis of this part of the decoration, in comparison with the late Gothic painting still preserved in the presbytey (including of course the chapel of Theodelinda) and with reference to further archival discoveries (such as the previously undocumented fact that Stefano da Pandino, Franceschino Zavattari's brother in law, was in Monza in May 1415), casts new light on an important chapter of the history of the Zavattari workshop, providing new evidence on one of the family's greatest works of decoration.