Roberta Delmoro
Libri dell'autore
«Assai annose pitture co' risalti di stucchi indorati». L'Annunciazione dell'arco traverso del Duomo di Monza: un contributo agli Zavattari
digital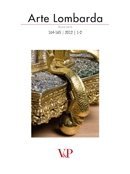 formato:

Articolo

| ARTE LOMBARDA - 2012 - 1-2
«Assai annose pitture co' risalti di stucchi indorati». The Annunciation on the transverse arch in the Duomo of Monza: a contribution on the Zavattaris ROBERTA DELMORO Recent studies on the fragment of 15th-Century decoration on the transverse arch of the nave in the Duomo of Monza – in a spot hidden under the attic since the construction of the 17th-Century barrel vault – have added new material on the workshop of the Zavattaris. The Annunciation, formerly extended over the entire arch and now limited to the scene with the Heavenly Father with Angels, points to the hand of a Zavattari working in the 1420s, who I suggest might be identified in Franceschino, whose presence in Monza is documented in 1420-21. The analysis of this part of the decoration, in comparison with the late Gothic painting still preserved in the presbytey (including of course the chapel of Theodelinda) and with reference to further archival discoveries (such as the previously undocumented fact that Stefano da Pandino, Franceschino Zavattari's brother in law, was in Monza in May 1415), casts new light on an important chapter of the history of the Zavattari workshop, providing new evidence on one of the family's greatest works of decoration.
Un gioiello in oro a smalto en ronde-bosse in un documento milanese del primo Quattrocento
digital
formato:

Articolo

| ARTE LOMBARDA - 2010 - 1-2
A golden jewel enameled en ronde-bosse in a Milanese document from the early 15th Century ROBERTA DELMORO The article recopies and analyzes – with particular focus on their historical and art-historical importance – the contents of a previously unpublished document found among the folders of Milanese notary Giovannino Balbi in Milan's State Archive. The instrumentum, an act of turnover produced in Milan and dated July 6th 1405, describes – with compositional and iconographic detail – a votive dangling plaque, then preserved by Giovanni I Borromeo, entirely made of gold and enameled in relief in white and red, using the en ronde-bosse technique. The pendant, now presumably lost, represented the Virgin with Child between the Saints John the Baptist and Dionysius Confessor, the Holy Spirit Dove and, at the top, the Holy Father in Heaven with Angels. The presence of the Milanese Martyr Saint separates the jewel, probably made in Paris, from the presently known accounts of similar sumptuary objects found in Lombardy. Its commission is just an episode of the wide range of trades between Lombardy and France, a result of the "international" policy adopted by Giangaleazzo Visconti at the end of the Middle Ages.
Consulta l'archivio
Ultimi 3 numeri
Annate disponibili online
Fascicoli anno
2019