Vita e Pensiero
ARTE LOMBARDA - 2020 - 2 - 3
novità
digital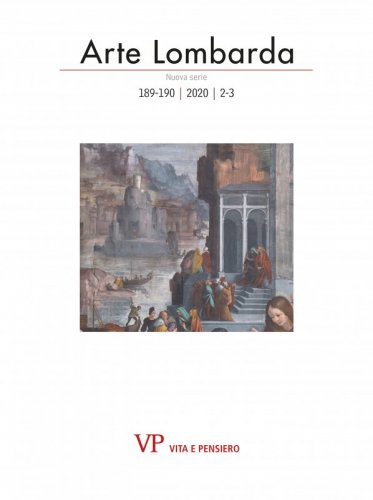 formato:

Fascicolo digitale

Fascicolo doppio del 2020 Paolo Gomarasca è membro del Comitato direttivo del Transdisciplinary Research On Food Issues Center (Trofic) e professore ordinario di Filosofia morale presso la Facoltà di Scienze politiche e sociali dellUniversità Cattolica. MariarosariSavarese è assegnista di ricerca presso la Facoltà di Scienze agrarie, alimentari e ambientali dellUniversità Cattolica e ricercatrice presso il Centro di ricerca E
Illuminare la Parola: appunti sulla Bibbia di Varese, un inedito manoscritto miniato del XII secolo a Ganagobie
novità
digital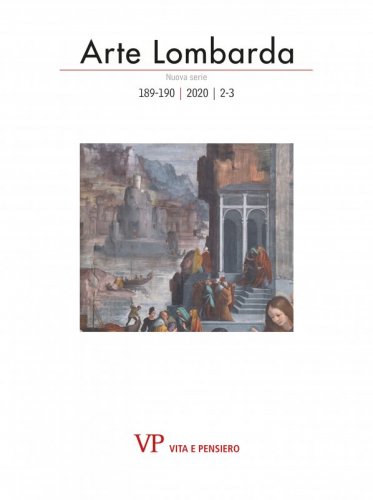 formato:

Articolo

| ARTE LOMBARDA - 2020 - 2 - 3
this study presents a precious illuminated bible dating back to the second half of the 12th century, currently kept in the abbey of Ganagobie in France (Provence) but created for the choral office of the ancient basilica of San Vittore in Varese. the contribution shows how this manuscript, significant for the art of the territory, is close to the illuminated bibles of Milan, representing a concrete example of an original creative process based on the geographical mobility of models and interactions between patrons and artists...
Precisazioni sugli scultori Anselmus e Girardus, la porta Romana di Milano di età comunale e il pulpito di Sant'Ambrogio
novità
digital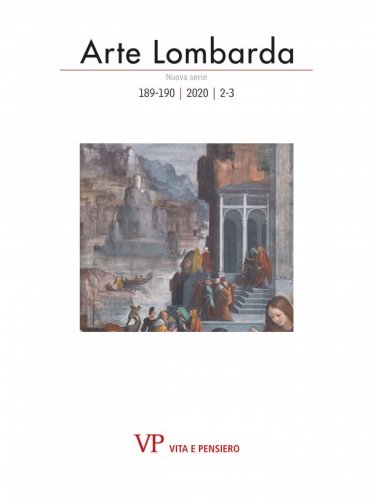 formato:

Articolo

| ARTE LOMBARDA - 2020 - 2 - 3
The Porta romana of Milan of the communal age, dating back to 1171, was decorated with four high-relief scenes depicting: the Diplomatic mission to Constantinople, by an anonymous author, now lost, the Return of the soldiers of the Lombard League led by frater Jacobus, of Anselmus, the Return of the Milanese people led by a cleric, by Girardus, the Expulsion of the Arians by Ambrose, by an anonymous author....
Fra tradizione lagunare e linguaggio gotico di terraferma nella seconda metà del Trecento: il pittore Stefano «plebanus» di Sant'Agnese
novità
digital
formato:

Articolo

| ARTE LOMBARDA - 2020 - 2 - 3
Stefano «plebanus» di Sant'Agnese has been ignored by the art critics for a very long time, starting with the Venetian scholars of the beginning of the 19th century, who were the first to be interested and to get involved in the historical reconstruction of the Venetian lagoon painting tradition. A major role for the non-recognition of Stefano was played also by the wrong interpretation of the adjective «plebanus», which made many art historians and art lovers believe that he had been a clergyman...
Gaudenzio Ferrari: The Miracle of Marseilles in the chapel of Mary Magdalene in San Cristoforo, Vercelli (1530-1532)
novità
digital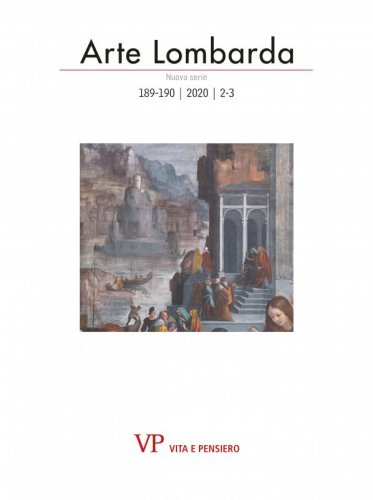 formato:

Articolo

| ARTE LOMBARDA - 2020 - 2 - 3
The conversion of the governor of Marseilles and his wife, thanks to the intervention of the Magdalene – known as the Miracle of Marseilles – along with their subsequent pilgrimage and baptism, is a narrative rarely depicted in renaissance art. However, in 1530-1532, the subject was treated in a strikingly prominent and unconventional fashion by Gaudenzio Ferrari in his murals in the church of San Cristoforo in Vercelli...
Pellegrino Tibaldi e il Palazzo di Corte di Milano
novità
digital
formato:

Articolo

| ARTE LOMBARDA - 2020 - 2 - 3
The Ducal Palace in Milan had a long series of alterations during the 16th century: already residence for the duchess Isabella of Aragon, it did not host the kings under the French and Spanish domination, during their journeys in Milan, but the ducal governors and it received attention above all by Alfonso of Avalos and Ferrante Gonzaga, mainly in the occasions of visits by Charles V in 1541 and Philip II of Habsburg in 1548...
Il restauro come occasione di studio. Nuova luce su due dipinti su tavola di Marco d'Oggiono della Pinacoteca di Brera
novità
digital
formato:

Articolo

| ARTE LOMBARDA - 2020 - 2 - 3
Two panel paintings executed by Marco d'Oggiono (Milan, 1470 circa - 1524) after 1517, conserved at the Pinacoteca di brera in Milan, have been the subjects of a recent restoration (Centro Conservazione e restauro La Venaria reale). the two paintings depict St. Francis of Assisi and St. Anthony of Padua, each presenting a devotee and they were originally part of a large polyptych, consisting of ten tables, made for the Franciscan convent of Santa Maria delle Grazie in Maleo (Lodi) and therefore called Maleo Polyptych; today these works of art are two of the five still known compartments of the altarpiece...
Un allievo bresciano (quasi dimenticato) di Tiziano. Profilo di Pietro Rosa
novità
digital
formato:

Articolo

| ARTE LOMBARDA - 2020 - 2 - 3
The purpose of this article is to deepen the figure of Pietro rosa, little studied so far, contextualizing it in the artistic scene of his time, in order to have a clearer idea about his artistic career and to complete a catalogue of his paintings. Pietro was Cristoforo rosa's son, the famous quadrature painter, and he attended titian's workshop in Venice, in 1563. the biography and the activity of this artist are confused, because of the lack of documents, so the research had to be based on ancient sources, such as city guides, essential in order to identify his artistic production...
Da simplex ecclesia a tempio: l'oratorio di San Matteo a Selvanesco, grangia certosina
novità
digital
formato:

Articolo

| ARTE LOMBARDA - 2020 - 2 - 3
A visit to oratory of San Matteo in Selvanesco leads us to the discovery of few spoilt shreds of paintings; but these traces are the only survivors of the 1588 complete decoration of the church, a beautiful project demanded by father Matteo rivolta...
Giovanni Battista della Rovere in Santa Maria delle Grazie a Milano
novità
digital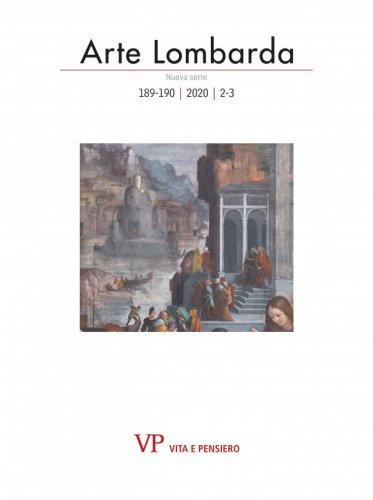 formato:

Articolo

| ARTE LOMBARDA - 2020 - 2 - 3
The Dominican church of Santa Maria delle Grazie in Milan houses an important fresco cycle in the Marliani family chapel, which was previously ascribed to artists such as Ottavio Semino, Aurelio Luini and Francesco Nappi. Now that a set of newly rediscovered mural paintings in Selvanesco have been attributed to Giovanni Battista Della Rovere, called Fiammenghino (1561-1627), it is possible to recognize the same hand in the Santa Maria delle Grazie frescoes...
Un dono veramente regale. L'arca in argento e cristallo per il corpo di san Carlo Borromeo (con due intermezzi)
novità
digital
formato:

Articolo

| ARTE LOMBARDA - 2020 - 2 - 3
The body of St. Carlo borromeo has been resting in the scurolo of the Duomo since 1638 in a silver and crystal casket, a gift from the Spanish kings Philip III and Philip IV. Although very well known, the casket has not been studied so far, and the few known documents concerning it have not received due attention...
La prima attività di Camillo Gavasetti
novità
digital
formato:

Articolo

| ARTE LOMBARDA - 2020 - 2 - 3
Camillo Gavasetti (Modena 1595 - reggio Emilia 1630) even though he has not collected much attention so far, has accomplished fresco cycles in some notable churches: San Sigismondo in Cremona, Santa Maria di Campagna in Piacenza, Santi Pietro and Prospero and basilica della Ghiara in reggio Emilia. Furthermore he realised artworks for the Farnese, Campori, and Coccapani families. the retrieval of new documents and a careful review of the already known sources have made possible to accurately retrace the artist's biographic journey...