Vita e Pensiero
ARTE LOMBARDA - 2021 - 1-2
novità
digital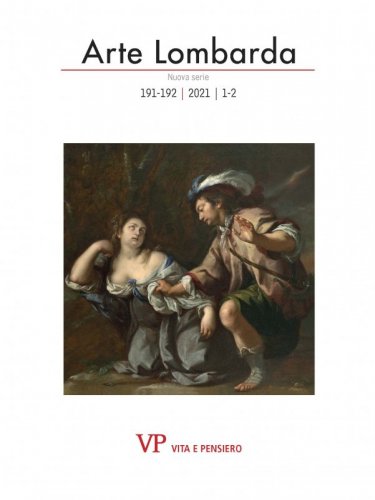 formato:

Fascicolo digitale

Fascicolo doppio del 2021
L'ambone in Italia nord-occidentale tra alto Medioevo e romanico: un'ipotesi di catalogo
novità
digital
formato:

Articolo

| ARTE LOMBARDA - 2021 - 1-2
This study proposes a first hypothesis of ambos catalogue, often fragmented or recomposed, made between the seventh and twelfth centuries in North-Western Italy, more or less well known, but never presented as a whole and compared with each other. It is an useful repertoire for future critical studies that take in consideration only one of them or that want to highlight the peculiarities of this liturgical artefact in comparison with those of other areas, for which a repertoire sometimes exists...
Committenza artistica in complessi civili del territorio mantovano nel XIV secolo: i casi di Castel d'Ario e Villimpenta
novità
digital
formato:

Articolo

| ARTE LOMBARDA - 2021 - 1-2
Thanks to the linking that connect art patronage and political communication in building and decorating of the civil late Medieval architectures, aim of this paper is the understanding of 14th century painting in Mantua territory in its specific historical and geographical context, with particular regard to decorative cycles located in fortified complexes. the relationship is faced through considering two contexts that emerge both because of their artistic value and their monumental relevance: Castel d'Ario and Villimpenta castles...
«Qualità e industria» nella scultura lombarda di primo Trecento: una Madonna con il Bambino della bottega del Maestro della Loggia degli Osii
novità
digital
formato:

Articolo

| ARTE LOMBARDA - 2021 - 1-2
An unpublished relief from a private collection depicting the Madonna Enthroned with Child is attributed here to the workshop of the Master of the Loggia degli Osii, active between Milan, bergamo, Como and rovereto (trento) in the first decades of the 14th century. the author suggests that the sculpture was originally part of an otherwise unknown funerary monument, probably arranged as that of Aldrighetto Castelbarco (died in 1328)...
Un'inedita Assunzione pavese. Riflessioni sulle dinamiche di scelta dei soggetti iconografici nel monastero di Santa Maria Teodote nel tardo Quattrocento
novità
digital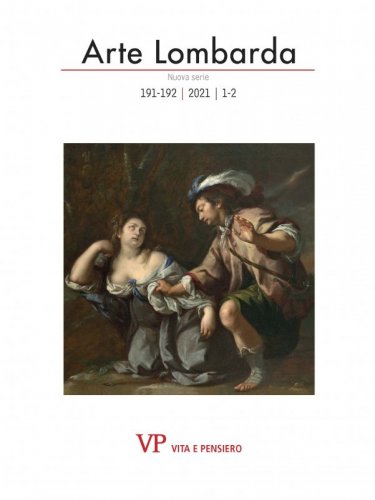 formato:

Articolo

| ARTE LOMBARDA - 2021 - 1-2
This article discusses a hitherto unpublished fresco from the Benedictine women's monastery of Santa Maria Teodote in Pavia. The nunnery, of Lombard origin, was extensively renovated in the last uarter  of the 15th century, as it joined the Cassinese Congregation (Congregation of Santa Giustina in Padua, one of the major 15th century reform movements among Benedictines in Europe). In addition to  other works, including the famous oratory of San Salvatore completely frescoed in the early 16th century, a refectory was built in which an Assumption/Coronation of the Virgin was painted. This latter fresco, which came to light in 2018, shows an iconography that is very similar to paintings created by artists working for the male and female Franciscan Observance in Lombardy. This paper, besides rising the question of the commission of such a fresco, whose location in a refectory is highly atypical, presents comparisons with artistic choices made in other Benedictine women's monasteries in Pavia and Lombardy during the same period: the nuns of Santa Maria Teodote were probably the commissioners of works characterised by originality and great modernity.
Giuseppe Dattaro dei Pizzafuoco. Commesse bresciane e itinerari gonzagheschi in chiusura del XVI secolo
novità
digital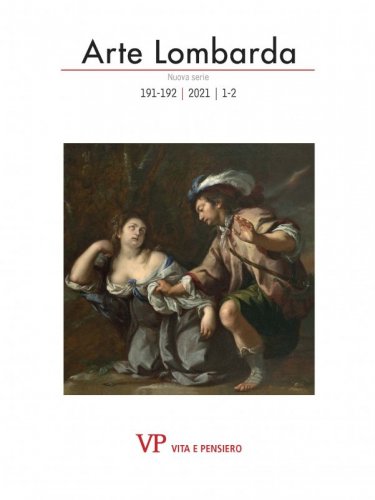 formato:

Articolo

| ARTE LOMBARDA - 2021 - 1-2
The well-known members of the Dattaro family (also called Pizzafuoco) worked in Cremona as architects since the first half of the Sixteenth century. Dattaro family architectural production in Cremona and Giuseppe activities in Mantua (1595-1590) have already been studied; little attention was instead paid to Giuseppe architectural tasks prior to his arrival at Vincenzo I Gonzaga court. recent archival researches have highlighted contacts between Giuseppe and brescia starting from the Seventies of the Sixteenth century; Giuseppe's letters and drawings were found in Gambara family archives...
Antonio Lupis (1620-1700) e l'arte bergamasca del suo tempo
novità
digital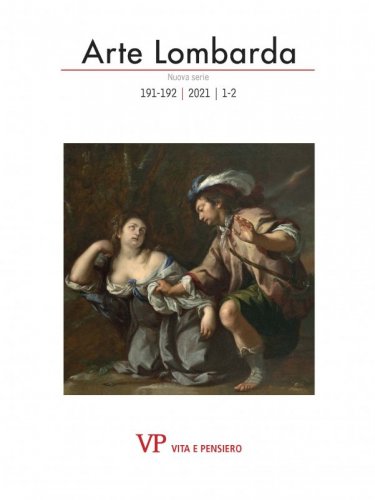 formato:

Articolo

| ARTE LOMBARDA - 2021 - 1-2
Antonio Lupis was an Apulian clergyman and writer who lived in bergamo in the last three decades of the seventeenth century. Several of his books, like Il Plico (1675), Il dispaccio di Mercurio (1681), La segretaria morale (1687) and Pallade su le poste (1691), deal with artistic themes and give us interesting information about the painters and sculptors of that time....
Giuseppe Nuvolone: mitologie, favole per musica e 'vaghe stelle'
novità
digital
formato:

Articolo

| ARTE LOMBARDA - 2021 - 1-2
Giuseppe Nuvolone's mythological paintings shed new light on the painter's relationship with the brescia cultural setting in the last years of the 16th century, expecially with Fortunato Vinaccesi, man of letters and scientist, and the scholar Giulio Antonio Averoldi....
Il collezionismo degli Abbiate Forieri tra Sei e Settecento a Milano. Dalla raccolta di Matteo alla Galeria di Giovanni
novità
digital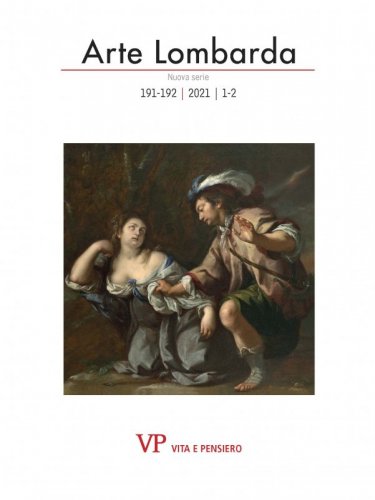 formato:

Articolo

| ARTE LOMBARDA - 2021 - 1-2
The discovery of the inventory of Matteo Forieri's legacy suggested an in-depth study of the family's collecting passions: paintings (in particular by Filippo Abbiati) and, in the case of Matteo's son Giovanni, also coins, cameos and drawings...
Ritorno a Semino, con qualche divagazione
novità
digital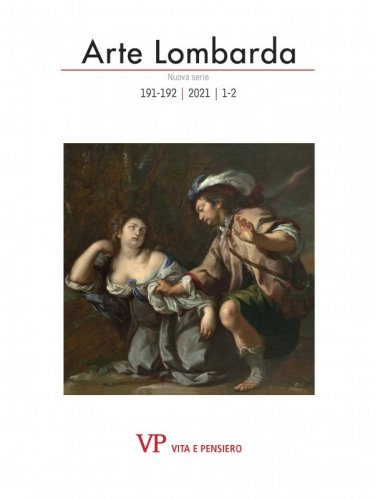 formato:

Articolo

| ARTE LOMBARDA - 2021 - 1-2
The article starts with the attribution to Ottavio Semino of a painting preserved in the church of San Martino at Greco, in the north-eastern suburbs of Milan. the ne w acquisition of the Ligurian painter 's catalog offers an opportunity to reconsider the most important works he undertook during his long stay in Lombardy, since the decorations of Palazzo Marino, a crucial junction f or Milan in mid-16th century on which an adequate study is still lacking...
Giacomo De Maria e la statua del San Mattia. Il cantiere del Duomo di Milano visto da uno scultore bolognese di primo Ottocento
novità
digital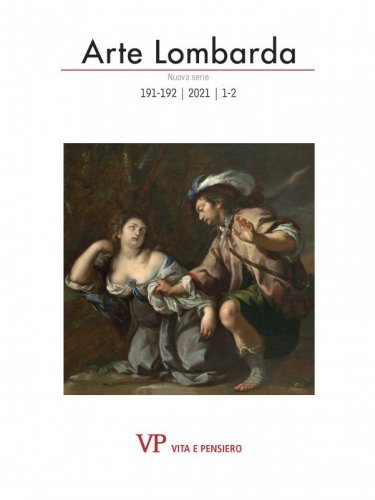 formato:

Articolo

| ARTE LOMBARDA - 2021 - 1-2
The monumental statue of St. Matthias is located on the north side of the Milan Cathedral. the sculpture was carved between 1810 and 1811 by the bolognese artist Giacomo De Maria. this is one of the interventions for completion of the Duomo, sponsored and encouraged by Napoleon. In order to complete such a huge project the patrons had to employ also artists from other Italian Academies of Fine Arts, like De Maria, who was also regularly taking part to the local fine arts exhibitions...
Luigi Secchi al Cimitero Monumentale di Milano tra impeccabili ritratti e sensuali figure femminili
novità
digital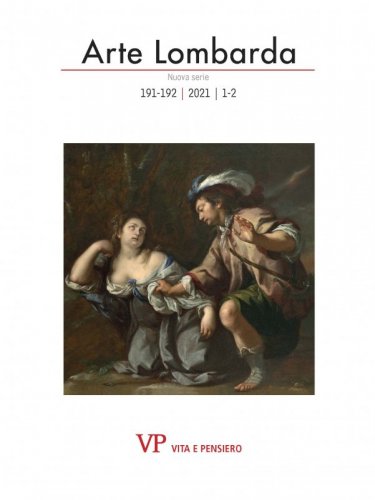 formato:

Articolo

| ARTE LOMBARDA - 2021 - 1-2
Luigi Secchi (1853-1921) was one of the most important artists between the 19th and 20th centuries in Milan. During his forty-year career, the sculptor, after the training that took place at the brera cademy and in the private studies of the masters of the Scuola di Milano, specialized in public monuments. His friend Luca beltrami played a fundamental role in promoting Secchi to public and private clients, involving him in many projects assigned to him. the artist quickly established himself as an excellent portraitist for his executive skills, the innate ability to grasp and faithfully represent the essential characters of the people with few strokes, both in official monuments and in commemorative portraits...