Il 'Maestro di Pedret' e la pittura lombarda: mito o realtà?
digital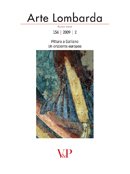 Ebook in formato Pdf leggibile su questi device:
The so-called 'Master of Pedret' (or better, his circle) needs an in-depth re-reading in light of more recent investigations on the painting technique used and on the historical context that has gone along with the execution of the cycles that have been attributed to him thus far. The hypothesis of a direct filiation from Lombard painting no longer seems valid: there are, in fact, traces of a genuine local tradition rooted in the monastery of Santa Maria in Ripoll ever since the beginning of the eleventh century, which could explain many problems related to the iconographical programmes of the 'Master of Pedret'. Besides underlining the close relationships between the Catalogna of Abbot Oliba with Rome and with southern Italy in the first half of the eleventh century, the author examines the impact – around 1100 – of the so-called 'art of Gregorian reform', which undoubtedly influenced the style and iconography of Pedret's circle. In any event, it seems necessary to abandon the traditional indication, and instead recognize the chronological priority of the paintings in Àneu and Burgal over the rest of the corpus consolidated around the name of the Master of Pedret.