Il Reliquiario della Santissima Croce del tesoro del Duomo Vecchio di Brescia
digital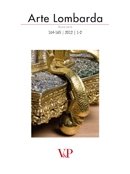 Ebook in formato Pdf leggibile su questi device:
The Reliquary of the Holy Cross in the Treasure of the Duomo Vecchio in Brescia

ALESSANDRO BARBIERI
The Reliquary of the Holy Cross in the Duomo Vecchio in Brescia is part of the treasure of the Holy Crosses. This precious work, which would be classified today as a staurotheque, is the result of a series of restorations and alterations through the years. What was originally nothing else than a "tabernaculum" – i.e. a silver case for the relic of the Holy Cross, partially gilded and enameled by goldsmith Bernardino Dalle Croci between 1477 and 1487 – was turned into a pedestal by the same artist in 1516, so that the relic would not be kept inside it, but rather on top of it. A third alteration brought to the definitive transformation of the object, with the addition (1533- 1557) of an exquisite golden shrine, enamels and precious stones, the work of goldsmith Giovanni Maria Mondella, who was capable of skillfully blend the two parts in an elegant, cohesive whole. In addition to the abundance of documents – through which it has been possible to trace back its history – and acknowledgments both in local sources and in the most recent literature, the reliquary has been depicted frequently, which provides specific information on its alterations and the possible additions of later years.
Consulta l'archivio
Ultimi 3 numeri
Annate disponibili online
Fascicoli anno
2012