Damiano Spinelli
Libri dell'autore
La decorazione in stucco della magna sala di Giovanni Visconti nel Palazzo Arcivescovile di Milano. Ritrovamenti e proposte
novità
digital
formato:

Articolo

| ARTE LOMBARDA - 2019 - 2-3
In 2016, during the last restoration campaign of the fourteenth-century frescoes of the Archbishop's Palace in Milan, two original beams of the ceilingc were found. these belonged to the Magna Sala built by Giovanni Visconti in the first half of the century. At the beginning of the 20th century toesca, Carotti and Moretti had studied some surviving decorations in the attics, probably found during the renovation of the building carried out in the late 19th century by the architect Cesare Nava...
La decorazione tardogotica di San Cristoforo sul Naviglio a Milano. Novità documentarie e proposte attributive
digital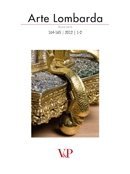 formato:

Articolo

| ARTE LOMBARDA - 2012 - 1-2
The late Gothic decoration of San Cristoforo sul Naviglio in Milan. Unpublished documents and possible attributions DAMIANO SPINELLI The article provides a historical and art-historical analysis of the Chapel of Sts John the Baptist, James, Christopher and Christina – traditionally known as Ducal Chapel – in the church of San Cristoforo sul Naviglio in Milan. Through the examination of a group of documents found in Milanese archives, regarding the foundation of the complex, it is now possible to trace back its origin, controverting the common theory that the Duke himself had sponsored its edification after the end of the plague of 1400. Rather, a group of Milanese citizens, whose names have been identified through previously unpublished documents, had a key role in the construction process. Nonetheless, the most important discoveries are those concerning the fresco painting on the counter-façade, depicting the Madonna enthroned with the Child and Saints, and the Crucifixion below; both works are positively attributed to Bassanolo de Magistris – whose biography can be tentatively outlined through comparison and documentary findings – while their sponsor is identifiable as Ayroldo de Alzate, whose coats of arms are included in the two pictures. Finally, the article analyzes the remaining decorations of the chapel: the Adoration of the Magi and the Seven Sleepers of Ephesus in the gores of the vault, and the magnificent frescoes on the back wall and on the façade, identifiable as the work of the Zavattari workshop and whose sponsor is the subject of a fascinating ipothesis.