L'allestimento della quadreria di Giuseppe Bossi nel palazzo milanese di via Santa Maria Valle secondo il primo inventario topografico
digital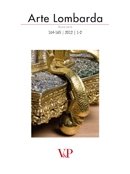 rivista
ARTE LOMBARDA
fascicolo
ARTE LOMBARDA - 2012 - 1-2
titolo
L'allestimento della quadreria di Giuseppe Bossi nel palazzo milanese di via Santa Maria Valle secondo il primo inventario topografico
autore
Silvio Mara
editore
Vita e Pensiero
formato
Articolo |

Pdf

online da
01-2012
issn
0004-3443 (stampa)
Ebook in formato Pdf leggibile su questi device:
The set-up of Giuseppe Bossi's painting collection in the palace at Via Santa Maria Valle in Milan, based on the first topographic inventory

SILVIO MARA
The year 1810 was a turning point for painter Giuseppe Bossi, as he had just given up his position as secretary of the Brera Academy. In December, Viceroy Eugenio di Beauharnais founded a Special School of Painting under the individual direction of Bossi, who establishd its headquarters in the ancient, airy palace he had recently purchased in Via Santa Maria Valle in Milan. Over the next five years the neoclassical painter, involved in ambitious lietrary projects and tours, expanded his art collections and set them up in his new home, according to his peculiar taste. In the article, the entire topographic inventory of the painting collection is presented for the first time as it looked like immediately after the painter's death on December 9th 1815. The set-up of the collection in the halls at the piano nobile, intended to please the owner's taste and based in part on the tradition of rich, aristocratic Milanese families, nonetheless shows an attention towards the education of art students. The particular course structure Bossi gave his school could not take its inspiration but from the very artworks he himself collected, a necessary tool for studying and making copies from the great masters of the past. Thus, Bossi's project for each room can be seen from such point of view. Thanks to the vast documentation found in the private archive of Bossi's heirs, a large number of paintings could be adequately identified, and it was possible to trace their later changes of ownership.