Un ciclo carolingio a Milano. Nuove ipotesi sulle pitture murali in San Satiro
digital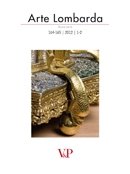 Ebook in formato Pdf leggibile su questi device:
A Carolingian cycle in Milan.
New theories on the mural paintings in San Satiro

MANUELA BERETTA
Embedded in the complex urban and architectural stratification of Milan's historic center, the church of San Satiro is the lone Carolingian monumental building in the area: its plan has been preserved, as has a cycle of mular paintings datable, for the most part, to the years of the foundation, which was ordered by Ansperto da Biassono (Archbishop of Milan from 868 to 881) within the so-called Insula Ansperti. Despite the defective conservation, it is possible to suggest a reconstruction of the original project – a task only inconsistently attempted so far by scholars – based on the recognition of "pairs" of figures on each of the four corners of the building. Such reading gives way to new theories on the identity of the portraited characters, and casts new light on the presence of figural elements such as the flowered cross – strictly connected with 9th-Century funerary painting – or the raceme decoration of the vaults, prompting an analogy with Carolingian cycles north of the Alps, such as the westwork of Corvey.
All the collected data concerning composition, iconography, technique and style are put in relation with Ansperto's patronage and the cultural scene in late-9th Century Milan: this reinvigorates the ipothesis, often rejected by scholars, of a homogeneous Carolingian cycle. The intent of this article is not to give a final answer to the questions surrounding the artwork, but rather to put such questions in a critical perspective, reconstructing the cycle in its complexity and opening up new lines of interpretation thanks to a broader basis of comparison, and thus to finally include the commission for San Satiro in a truly Milanese – and at the same time European – context.
Consulta l'archivio
Ultimi 3 numeri
Annate disponibili online
Fascicoli anno
2012