Sulla formazione di Arturo Tosi
digital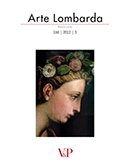 Ebook in formato Pdf leggibile su questi device:
On Arturo Tosi's artistic education

Despite his important role in artistic life in Italy from the 1920s – both as a member of the committee of the "Novecento" movement, supported by his friend Margherita Sarfatti, and as a respected and decorated artist – Arturo Tosi (1871-1956) still leaves many unanswered questions regarding his career and particularly his early years. By joining the information found in newly-discovered documents together with that deduced from the bibliography, the article fills the void concerning Tosi's artistic education, his studies, his beginnings as a painter and the relationships with other artists. Through the scrutiny of the painter's correspondence, it is possible to reveal his network of connections and friendships, also dating several of his traveling experiences. Such data, together with the finding of previously unknown works from the 1890s, allows the author to better clarify Tosi's language and his debts towards other masters, both ancient and modern, clearly visible in his paintings from the "alcoholic period", a term used since 1951 to indicate the artist's "expressionist" phase (1894-1910).
Consulta l'archivio
Ultimi 3 numeri
Annate disponibili online
Fascicoli anno
2012