Uno sconosciuto dipinto di Filippo Abbiati per il santuario della Madonna del Bosco a Imbersago
digital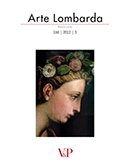 Ebook in formato Pdf leggibile su questi device:
A previously unknown painting by Filippo Abbiati for the Sanctuary of Madonna del Bosco in Imbersago

The article analyzes a late-17th-Century painting recently discovered during the cataloguing of the assets of the Diocese of Milan, and originally displayed on the high altar of the Sanctuary of Madonna del Bosco in Imbersago. The painting depicts the miraculous apparition of the Virgin on May 9, 1617: while resting against a chestnut tree, the Madonna presents three burs to a group of shepherds kneeling at the bottom of the scene, next to an ox, a dog and some sheep. The extremely good quality of the work immediately suggested an attribution to an important master, later identified with Filippo Abbiati, who had worked here together with another painter, a specialist in the rendition of animals and plants. A validation to this hypothesis is given by the will of Alberico Barbiano di Belgiojoso, patron of a chapel in the Sanctuary, dated September 19, 1692, in which he endows a budget in favor of the high altar. The nobleman was actually a patron of Abbiati and another painter named "Merate", a pupil of Tempesta. It was then possible to make inquiries about this artist, who could probably be identified with Giuseppe Merati, mentor of Tavella, the author of an interesting – yet virtually unknown – cycle of frescoes in the castle of Roncadelle (Brescia).
Consulta l'archivio
Ultimi 3 numeri
Annate disponibili online
Fascicoli anno
2012