Un ritrovamento per Lodovico Antonio David da Lugano: la Natività un tempo in San Silvestro a Venezia, circa 1680
digital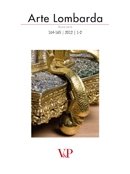 rivista
ARTE LOMBARDA
fascicolo
ARTE LOMBARDA - 2012 - 1-2
titolo
Un ritrovamento per Lodovico Antonio David da Lugano: la Natività un tempo in San Silvestro a Venezia, circa 1680
autore
Giorgio Fossaluzza
editore
Vita e Pensiero
formato
Articolo |

Pdf

online da
01-2012
issn
0004-3443 (stampa)
Ebook in formato Pdf leggibile su questi device:
A new finding concerning Lodovico Antonio David from Lugano: the Nativity formerly from the church of San Silvestro in Venice, circa 1680

GIORGIO FOSSALUZZA
The recent spotting on the antique market of a Nativity signed by Lodovico Antonio David offers an occasion to riconsider the career of this master originally from Ticino, who received his education in Milan under Francesco Cairo and Ercole Procaccini Jr., and subsequently worked for a long time in Venice and Rome. This large painting is identified as that finished in 1680 – or lightly earlier – for the church of San Silvestro Papa in Venice, where it remained until the complex was transformed in the late 1830s, before being sold together with other artworks, such as the better-known Adoration of the Magi by Paolo Veronese, now at the National Gallery in London. The confirmation of the work's place of origin makes it possible to include David in the "barocchetto" tendency of Venetian painting, which is visible throughout the cycle of paintings in this church, inaugurated by the master from Ticino. The cycle was promoted by the School of San Giuseppe, connected to the "Nazione Bergamasca" in Venice: the subject was the life of Mary and St Joseph, with reference to the dedication of the altar with the Holy Family altarpiece by Bavarian painter Johann Carl Loth, still in place. Gregorio Lazzarini was involved as well, and that led to him parting ways with his mentor David; Antonio Bellucci, Francesco Pittoni and Nicolò Bambini also worked in San Silvestro, and so did Louis Dorigny, who decorated the much praised vault. As confirmed by the retrieved painting – the fifth positively attributed to the Venetian years – David's style at the time consisted in a peculiar academism, deriving from his Lombard education, his reflection upon the 16th-Century Venetian masters, and also his experience with Cignani in Bologna between 1669 and 1670. Such complexity of research was the typical of Venetian academies, of which David was a key figure, also as a scholar of technical and theroetical elements of painting. The work for San Silvestro shows a specific interest towards Correggio, developed in the Cignani studio. While in the painting this element coexists with references to Carracci and Veronese, it would turn into a downright infatuation for the Emilian master's nocturnal art after David's stay in Parma, Reggio and Modena in 1684-85, as shown by the Nativity altarpiece in the Rotonda of Rovigo, finally attributed to him, and the two Adorations in Sant'Andrea al Quirinale in Rome (1691), one of his best-known works. During the Roman years, his transposition of Correggio's style goes hand in hand with an utter commitment to documentary and theorietical research on the 16th-Century master, which would bring David to have an intense correspondence with Muratori, an adversary of Father Sebastiano Resta, who was in contention with the Academy of San Luca.