Andrea Pozzo nelle lettere di Giovanni Battista Barella a Livio Odescalchi: novità e precisazioni sulle commissioni (mancate) in San Sebastiano a Milano e in Palazzo Reale a Torino
digital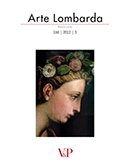 rivista
ARTE LOMBARDA
fascicolo
ARTE LOMBARDA - 2012 - 3
titolo
Andrea Pozzo nelle lettere di Giovanni Battista Barella a Livio Odescalchi: novità e precisazioni sulle commissioni (mancate) in San Sebastiano a Milano e in Palazzo Reale a Torino
autore
Eugenia Bianchi
editore
Vita e Pensiero
formato
Articolo |

Pdf

online da
03-2012
issn
0004-3443 (stampa)
Ebook in formato Pdf leggibile su questi device:
Andrea Pozzo in Giovanni Battista Barella's letters to Livio Odescalchi: clarifications and new discoveries on the (failed) commissions for San Sebastiano in Milan and Turin's Royal Palace

The essay describes Andrea Pozzo's early years in Rome (1681-1685), according to the information found in a number of letters written between December 10, 1681 and January 17, 1685 by Jesuit Giovanni Battista Barella, a resident of the San Fedele convent in Milan, and addressed to Livio Odescalchi, who had been convinced to settle in Rome by his father Carlo and his uncle Benedetto, Pope Innocent XI since 1676. These letters, kept in the Odescalchi Archive, currently part of the Archivio di Stato in Rome, are just a small portion of a vast and interesting correspondence – ranging between 1677 and 1686 and regretfully limited to incoming letters – offering a lively perspective on Milanese society of the time, a subject about which the recipient was particularly curious. The letters regarding Andrea Pozzo are focused on Barella's attempt – prompted by the delegates of the Temple of San Sebastiano– to persuade the artist to move back to Milan and decorate the cupola of the church, as anticipated in a contract signed before the his departure in 1681. The Jesuit Father seeks help from Livio, whose influence, however, would eventually fail to convince the artist. The same unsuccessful result would later be obtained by other requests from the Jesuits of Turin and Vittorio Amedeo, Duke of Savoy, both aimed at persuading Pozzo to come to Turin, respectively to complete the decoration for the church of Santi Martiri and to work on one of the galleries of the Royal Palace.