I reliquiari quattrocenteschi della certosa di Garegnano: una rilettura
digital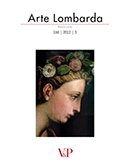 rivista
ARTE LOMBARDA
fascicolo
ARTE LOMBARDA - 2012 - 3
titolo
I reliquiari quattrocenteschi della certosa di Garegnano: una rilettura
autore
Carla Travi
editore
Vita e Pensiero
formato
Articolo |

Pdf

online da
03-2012
issn
0004-3443 (stampa)
Ebook in formato Pdf leggibile su questi device:
15th-Century Reliquaries at the Certosa di Garegnano: a new reading

The article offers a new analysis of the two reliquaries of the Certosa di Garegnano in Milan, made up of 15th-Century miniatures and golden glass frames. The relics preserved inside – which have been in the charterhouse since at least the late 16th Century, when they were arranged as in the current display – may have already been there by 1477. The hypothesis suggested in the essay is that glass frames and miniatures, each with its own relic, were originally organized in two distinct series, and may be dated to as early as the half of the previous century. The tempera pictures are strictly connected to the Carthusian environment, and specifically to the community of Garegnano, within which they might have been conceived. The golden glass frames, the work of a different workshop, are noted for their high quality and their affinity with the new language of the Renaissance. The cultural liveliness of the Certosa around and after the half of the 15th Century, well represented by the figure of the well-read Prior Matteo Codenari da Cremona, appears in the background of these masterpieces.