Uno strano multilinguismo nella chiesa abbaziale cassinese a San Benedetto Po: Giulio Romano parla persino in dialetto lombardo
digital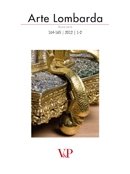 Rivista
ARTE LOMBARDA
Fascicolo
ARTE LOMBARDA - 2012 - 1-2
Titolo
Uno strano multilinguismo nella chiesa abbaziale cassinese a San Benedetto Po: Giulio Romano parla persino in dialetto lombardo
Autore
Bruno Adorni
Editore
Vita e Pensiero
Formato
Articolo |

Pdf

Online da
01-2012
Issn
0004-3443 (stampa)

|

2785-1117 (digitale)
Ebook in formato Pdf leggibile su questi device:
A peculiar multilinguism in the Cassinese abbey church of San Benedetto Po: Giulio Romano even speaks Lombard

BRUNO ADORNI
As he was employed in the court of Federico II Gonzaga, Giulio Romano mostly addressed religious architetcure in the late years of his career, as in the abbey church of San Benedetto in Polirone, in the greater cloister of the Benedictines in Reggio Emilia, in the Duomo of Mantua and in the project for the afcade of San Petronio in Bologna. According to a pair of bequests by Lucrezia Pico della Mirandola (June 11, 1500) and Cesare Arsago (May 20, 1509), the Benedictines of the abbey of San benedetto Po were supposed to completely rebuild their old Romanesque church, already transformed by the early 15th Century. It seems that Battista Covo had delivered a new project in 1524, thanks to the interest of Isabella d'Este. After Gregorio Cortese was named abbot in 1538, though, the Benedictines requested to Pope Paul III that they be allowed to preserve part of the existing church. Giulio Romano was entrusted with this arduous task, presumably in 1539, while the operations began in August 1540. Giulio mantained most of the old building, while adding a front bay in Lombard-Gothic style. He also added a new façade and two new series of side chapels. Inside, he completed the first three bays with Serlian arches using columns from the late 15th Century. The façade shows a system of repeated trabeated bays, surmounted by a series of tympani, perhaps inspired by the Arco dei Gavi in Verona. On the South side, a similar scheme is topped by an attic providing light to the chapels. Its rhytm is strikingly free and dramatic, with the distance between the columns contnuously expanding, to a point where the interaxis almost vanished betweeen the fourth and fifth arches. In the interior, Giulio associates capitals derived from the Prevedari etching and Bramante's Lombard buildings to the solecisms of the late-15th-Century columns sculpted by Giovanni Buora. At the entrance of each chapel, for instance, he draws on the irregular section of pillars from Santa Maria delle Grazie in Milan. The painted rose windows at the sides on the nave, under the pointed arches, are also a reference to Lombard culture of the 1400s, a proof that Giulio openly intended to speak an arcaic Lombard idiom. He also worked in the adjoining chapel of St Mary, where he gave a Serlian articulation to the base of the cupola and completely transformed the presbytery, each angle of which is marked by columns recessed into joint pilasters, as in the chapel of the Italienische Palastbau of the Stadtresidenz in Landshut, thus confriming Guilio's presence in that building. Finally, the innovative wooden choir is probably Giulio's work as well.
Consulta l'archivio
Ultimi 3 numeri
Annate disponibili online
Fascicoli anno
2012