Paolo Carpeggiani
Titoli dell'autore
Per la storia del Palazzo Ducale di Mantova. Architetti e il Tintoretto in Corte Nuova
digital
formato:

Articolo

| ARTE LOMBARDA - 2019 - 2-3
The essay deals with some related topics in the history of the architectural complex that constitutes the Ducal Palace of Mantua. In the mid-16th century Giovan Battista Bertani, "prefetto delle fabbriche", started for Guglielmo Gonzaga, on pre-existences, the arrangement of the Corte Nuova Apartment, contiguous to that of Troy built by Giulio Romano in the thirties of the 16th century...
Il giardino della Favorita e la presenza a Mantova di Girolamo Rainaldi
digital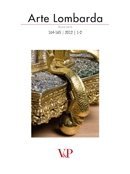 formato:

Articolo

| ARTE LOMBARDA - 2012 - 1-2
The garden of Favorita and Girolamo Rainaldi's presence in Mantua PAOLO CARPEGGIANI The project for the garden of Favorita – the ambitious suburban residence of Ferdinando Gonzaga, work of Nicolò Sebregondi (1585-1652) – casts some light on the relationship between Gonzaga and Roman architect Girolamo Rainaldi (1570-1655), so far barely considered by scholars. While historians have established that Ferdinando's passion for collecting decorative arts was governed by a taste developed during the Roman years – he was named Cardinal by Paul V in 1607, and took over the lead of the Duchy after his older brother Francesco's death –, his connection with Rainaldi, also known as an experienced fountain designer and water engineer. Through an accurate research on the documents and the study of the Duke's correspondence, the project for the spectacular garden and its fountains is attributed to the Roman architect, who likely met the Cardinal during the latter's stay in Rome.