Licia Carubelli
Libri dell'autore
La parrocchiale di Vaiano Cremasco: testimonianze di cultura milanese e lombarda dal 1660 alla metà del Settecento
digital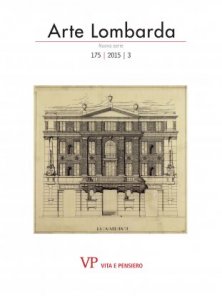 formato:

Articolo

| ARTE LOMBARDA - 2015 - 3
The events of the parish church of Vaiano Cremasco, from the late sixteenth to the late eighteenth century are considered, with particular attention to unpublished or little known facts from the literature. After a period where some interventions in the old building are made (in the sixteenth century, the altarpiece for the altar of the Madonna and the realization of some of the angels, gilded by Aurelio Buso; in the mid of the seventeenth century, the altarpiece of the Madonna del Rosario, by Giovanni Battista Botticchio and the Mysteries of the Rosary performed by a Procaccini painter), some important works for the reconstruction of the church are started. The new building was begun in 1660 by the architect «Carlo Lucin Ferrandi» (as it is named in the parish records), who can be identified with the Milanese Carlo Ferrando Lucino. The construction ends only in the early eighteenth century, when the indoor liturgical structure is completed...
Pietro Maggi a Crema: le tele della demolita chiesa di San Marino
digital
formato:

Articolo

| ARTE LOMBARDA - 2010 - 1-2
Pietro Maggi in Crema: the canvases in the demolished church of San Marino LICIA CARUBELLI Following the death of the major local painters from the 1600s, no personality of particular relevance seems to have emerged in Crema at the turn of the century. Customers then reached out to other areas, such as Veneto and Milan. Thus is explained the presence in town of important works by Legnanino and Giacomo Parravicino, who had been born in Valtellina but were living in Milan: specifically, the former's Annunciation in the parochial church of San Giacomo and the latter's rather imposing frescoed decoration in the church of Santa Maria della Croce, made in collaboration with the Grandi brothers, specialized in the technique of quadratura. Pietro Maggi – to whom a cycle of canvases for the church of Bagnolo Cremasco has been attributed in the past – belonged to the very same milieu; his name is now being associated with a group of 6 canvases formerly in the church of San Marino in Crema, seat of the Barnabite Fathers in the 17th and 18th centuries. These works ought to be attributed to the Milanese painter on the basis of clear similarities with his known production, showing close links with the figural culture of both Lombardy (scholars presume he was a pupil of Filippo Abbiati) and Veneto. The Crema paintings, representing Alessandro Sauli Receiving Communion, St. Libor, St. Francis of Sales, St. Anthony of Padua in Adoration of the Child, St. Anne and the Virgin Mary, St. Charles in Adoration of the Crucifix, show the work of a painter up to date with the most important 18th Century innovations, such as light and bright colors and a vibrant atmosphere, if still within a more traditional classicism.
Consulta l'archivio
Ultimi 3 numeri
Annate disponibili online
Fascicoli anno
2019