Orietta Lanzarini
Libri dell'autore
Le vie dell'antico sono infinite? Appunti sulle fonti archeologiche negli elementi decorativi di Santa Maria presso San Satiro a Milano
digital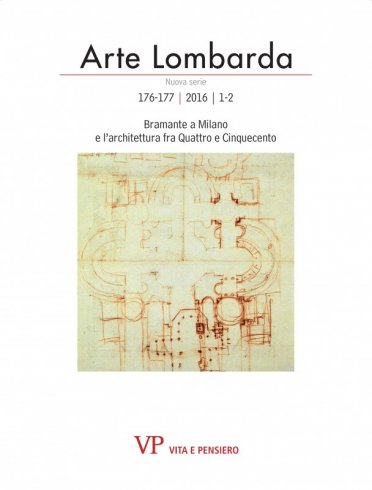 formato:

Articolo

| ARTE LOMBARDA - 2016 - 1-2
The church and the sacristy of Santa Maria presso San Satiro offer a wide range of ornamental elements of great interest, especially the pilaster capitals, the result of a complex process of design and interpretation by the artists involved in their preparation using a series of ancient models. Many of the decorative and figurative subjects present here were very wide-spread in Lombardy, but what is their ultimate origin from an archaeological point of view?
«Per restare Civitatis ornamentum». Il progetto storico di Ernesto Nathan Rogers nel Museo d'Arte antica del Castello Sforzesco di Milano (1947-1956)
digital
formato:

Articolo

| ARTE LOMBARDA - 2011 - 1-2
The exhibition plan for the Ancient Art Museum at Castello Sforzesco, developed by BBPR between 1947 and 1956, is part of a general process of re-organization and renewal of museums carried out in Italy after World War II, in order to educate a larger and more varied public in the values of art and history. Ernesto Nathan Rogers, who had been reflecting theoretically on those values since the Thirties, finally had a chance to pass them on to visitors through specifically dedicated planning solutions elaborated with BBPR. The task presented a number of stiff challenges: how could the architectural firm combine the modernity of their shapes, materials and technical solutions with those of Castello Sforzesco, inherited from Beltrami, and correspondingly present the public with history's continuous journey from past to present? How could they establish a continuity among collections made up of fragments, putting them into a lively, comprehensible narrative? And finally – a problem concerning Rogers more than anyone else – how could they capitalize on this occasion to test the effectiveness of many theoretical assumptions, and perhaps to formulate new ones 'on the field'? A comparative study of Rogers' writings and the most significant solutions for the museum allows to analyze the strategies adopted by BBPR to meet those challenges, while at the same time casting some light on the importance of Castello Sforzesco in the context of Italian museography.
Consulta l'archivio
Ultimi 3 numeri
Annate disponibili online
Fascicoli anno
2019