Ilaria De Palma
Libri dell'autore
Ernesto Rusca tra romanico e neoromanico. Interventi decorativi a finto mosaico nelle chiese di Rivolta d'Adda, Gallarate e Legnano
digital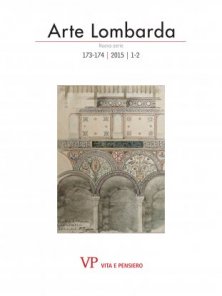 formato:

Articolo

| ARTE LOMBARDA - 2015 - 1-2
Thanks to his successful restoration of Leonardo da Vinci's wall paintings in Sala delle Asse at Milan Castle on Luca Beltrami's behalf, in 1903 the painter and restorer Ernesto Rusca (1862-1947) was asked by the architect Cesare Nava to decorate the just restored cathedral of Rivolta d'Adda (11th-12th century). Rusca painted a Coronation of the Virgin Mary between Saint Sigismond and Albert Quadrelli in Neo-Fifteenth Century style on false mosaic background...
Giacomo Manzù nelle carte dell'archivio Gritti
digital
formato:

Articolo

| ARTE LOMBARDA - 2011 - 1-2
Through the scrutiny of the archive documents from the workshop of the Grittis – a family of wood carvers and restorers from Bergamo – the article gives new information on the wood sculpture and furniture production of Giacomo Manzù. A schoolmate of Angelo Gritti and a close friend of his son Eugenio, Manzù projected the furniture for the houses of the Lampugnani family and the liturgical ornaments for the Cappella della Pace – commissioned by Mgr. De Luca for his own residence – with the help of the workshop, which had a long tradition in cabinetmaking. Even though the artist had some experience in the technique of wood sculpting, he actually created his works in ebony and Swiss pine through the craftsmanship of Angelo and Eugenio Gritti. Cardinal, Lying Woman, Guantanamera, Maternity, Woman Looking were all produced between the sculptor's atelier in Ardea and the Gritti workshop in Bergamo. The creative process began with a plaster model made by Manzù, then developed through the study of volumes and the assembling of the wood pieces for the sculptural block, made by the Grittis; finally, the sculpture was completed by the Grittis under the demanding supervision of Manzù, who would later appropriately acknowledge the key role the workshop had in the creation of his masterpieces.
Consulta l'archivio
Ultimi 3 numeri
Annate disponibili online
Fascicoli anno
2019