Francesca Mattei
Titoli dell'autore
Un Vitruvio postillato alla Biblioteca Comunale Teresiana di Mantova
digital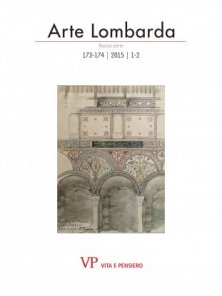 Formato:

Articolo

| ARTE LOMBARDA - 2015 - 1-2
This article analyses an edition of Vitruvius' De architectura (Florence, 1513) conservated in Biblioteca Comunale Teresiana in Mantua (LXVI.F.21). There are brief and sporadic comments on the margins of the text as well as several drawings...
Celio Calcagnini, Terzo Terzi e la cultura architettonica a Ferrara nel primo Cinquecento (1513-1539)
digital
Formato:

Articolo

| ARTE LOMBARDA - 2012 - 3
Celio Calcagnini, Terzo Terzi and architectural culture in early-16th-Century Ferrara (1513-1539) The essay analyzes a previously unpublished document found at the Archivio di Stato in Ferrara, which makes it possible to attribute and date the tomb of local humanist Celio Calcagnini. According to the document, the project is to be attributed to Terzo Terzi, court architect of Ercole II d'Este, and its hypothetical reconstruction traces its origin from archaic models substantially different from those typical of the local tradition. Through an outline of Terzi's overall activity, the author suggests a plausible position of the project within the architect's body of work. Calcagnini's architectural culture is then analyzed through his writings and library. A part from the publication of newly discovered archive materials, the article reveals a virtually unknown aspect of the humanist's multifaceted culture, establishing a starting point for further studies on architecture in early-16th-Century Ferrara.
Consulta l'archivio
Ultimi 3 numeri
Annate disponibili online
Fascicoli anno
2022