Elisa Curti
Libri dell'autore
L'oratorio certosino del castello di San Colombano al Lambro: novità su Bernardino Campi e una proposta di identificazione per "Jacobus Proffit Parisiensis"
digital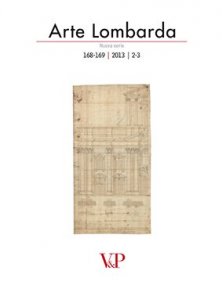 formato:

Articolo

| ARTE LOMBARDA - 2013 - 2-3
The essay attempts an overall description of the Carthusian oratory of Mary Magdalene in San Colombano al Lambro, destroyed in 1846. The mural paintings and the altarpiece, the work of Cremona native Bernardino Campi and his workshop (1579-1581) were partially preserved, and several fragments were acquired by Pinacoteca di Brera between 1908 and 1913. Previously unpublished letters from the Parish archive of San Colombano made it possible to retrace the facts surrounding the detachments. A comparison between these and the remaining sinopias, now walled up inside a chapel of the church of San Colombano, makes it possible to reconstruct the original decoration. Moreover, the description of the oratory made by Alessandro Lamo in 1584 and that found in a document dated 1831, just before the demolition, constitute an important base not only for hypotheses regarding the structure and size of the building, but also for a possible reconstruction of the seven paintings, with episodes from the life of Mary Magdalene, that decorated its walls. The research also brought to the discovery of the 17th-Century altar, with an antependium signed «Jacobus Proffit Parisiensis», a so far relatively unknown artist who may also be the author of a newly attributed work at the Certosa of Pavia.