Berthold Hub
Libri dell'autore
Prefazione
Gratis
digital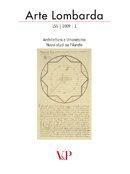 formato:

Articolo

| ARTE LOMBARDA - 2009 - 1
La planimetria di Sforzinda: un'interpretazione
digital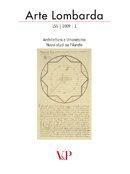 formato:

Articolo

| ARTE LOMBARDA - 2009 - 1
Although the ground-plan of Filarete's ideal city of Sforzinda – two regular interlocking squares enclosed by a circle – is one of the most frequently reproduced quattrocento book illustrations, an adequate interpretation has not yet been given. A figure identical to Filarete's plan is found in numerous older and contemporary treatises that were accessible in the library of his patron, Francesco Sforza. In these images the figure represents a geometrical exposition of the cosmos, a diagram of universal order, the archetypal idea of God the Creator; these resonances were purposefully invoked by Filarete when he designed his ideal city. Abundant examples from medieval and Renaissance Europe show that this figure was generally understood as a depiction of the world, by artists and builders alike. Further, in his text Filarete repeatedly emphasized macrocosmic references, drawing a specific analogy between the founding of the city and divine creation. The implications of this argument are far reaching, and involve two fundamental concerns of 'Renaissance' architects: their opinion as to the nature of their profession and their own status, as well as what they, the new, universally educated architects were claiming to achieve as the effect of architecture. In other words, a full contextualization of Filarete's plan for Sforzinda reveals that, for the quattrocento architect, a fundamental and lasting renewal of society was possible only through the renewal of the built environment; this built renaissance is both the first prerequisite and the continuing condition for all improvements, on the human and societal level.
Consulta l'archivio
Ultimi 3 numeri
Annate disponibili online
Fascicoli anno
2019