Del vero volto di Ambrogio. Riflessioni sul mosaico absidale di Sant'Ambrogio a Milano in epoca carolingia
digital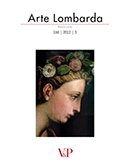 rivista
ARTE LOMBARDA
fascicolo
ARTE LOMBARDA - 2012 - 3
titolo
Del vero volto di Ambrogio. Riflessioni sul mosaico absidale di Sant'Ambrogio a Milano in epoca carolingia
autore
Ivan Foletti
editore
Vita e Pensiero
formato
Articolo |

Pdf

online da
03-2012
issn
0004-3443 (stampa)
Ebook in formato Pdf leggibile su questi device:
Thoughts on the apse mosaic of Sant-Ambrogio in Milan during the Carolingian era

The lower part of the apse mosaic in the Basilica of Sant'Ambrogio in Milan illustrates two episodes of St. Ambrose's life, both recounted by Gregory of Tours and in the anonymous De vita et meritis Sancti Ambrosii. The current mosaic, representing the miraculous presence of St. Ambrose at St. Martin's funeral, is the result of a modern makeover. Judging from some fragments, the original work can be dated to the 9th Century: the article takes these fragments into consideration, in order to suggest a more precise date and an innovative interpretation of the mosaic. St. Ambrose's features are different from the usual depiction – as in the sacellum of San Vittore in Ciel d'Oro and in the golden altar of the Basilica – and appear identical to those of St. Peter. This choice might be explained as a provocation towards Rome and its most emblematic figure. The hypothesis is supported by the political situation during the years of Archbishop Ansperto (868-881), excommunicated and overthrown in 879 after a major disagreement with Pope John VIII. Such background makes the image in the apse of Sant'Ambrogio more clearly understandable: given St. Peter's features, St. Ambrose is seen as an Alter Petrus, whose importance legitimizes the position of the Ambrosian church, unwilling to submit itself to Rome.
Consulta l'archivio
Ultimi 3 numeri
Annate disponibili online
Fascicoli anno
2012