I fratelli Bonisoli, pittori cremonesi fra XVII e XVIII secolo
digital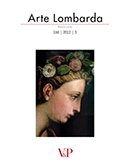 Ebook in formato Pdf leggibile su questi device:
The Bonisoli brothers, painters from Cremona between 17th and 18th Century

The essay proposes a reconstruction of the artistic career of Agostino Bonisoli (Cremona, 1637/8-Tornata, 1707), a painter virtually unknown today, but vastly appreciated by noted patrons of his time. His body of work, characterized by a general unevenness in both style and quality, is here thoroughly reconsidered. During her research, the author could establish that such inconsistency was a consequence of the frequent interventions by the artist's workshop and his younger brother Carlo, who is barely mentioned in the bibliography. A catalogue of Agostino Bonisoli's paintings could then be completed, with 8 documented works, 30 lost and 17 excluded. The newlydiscovered documents also make it possible to identify Agostino as the author of a canvas from the Ala Ponzone Museum in Cremona, previously attributed to Jacopo Ferrari. Carlo Bonisoli's artistic career also receives attention for the first time, as eight paintings on canvas and the frescoes in the church of Beata Vergine delle Grazie in Cortemaggiore, made in collaboration with Giuseppe Natali, are now attributed to Agostino's brother.
Consulta l'archivio
Ultimi 3 numeri
Annate disponibili online
Fascicoli anno
2012